Alfa Romeo 4C Throttle Response Controller - MADNESS GOPedal - Legacy Model
Product Information
$229.99
Drive now, Pay later with Affirm
Learn More
or with PayPal
Both options will be available upon checkout.
There are countless upgrades available for your Alfa Romeo 4C, why not start with something you can feel!
The MADNESS GOPedal is designed to reduce initial lag felt in todays drive by wire vehicles by allowing you to advance your throttle's timing to give you a more direct response for a much improved feel.
The GOPedal puts the control in your hands! With four different modes and 8 settings, there is an adjustment to suit your needs.
Thousands of satisfied Alfa Romeo Owners have purchased and use the MADNESS GOPedal! Try it out and find out why this is one of the best selling and reviewed products available for the 4C.
Modes at a glance: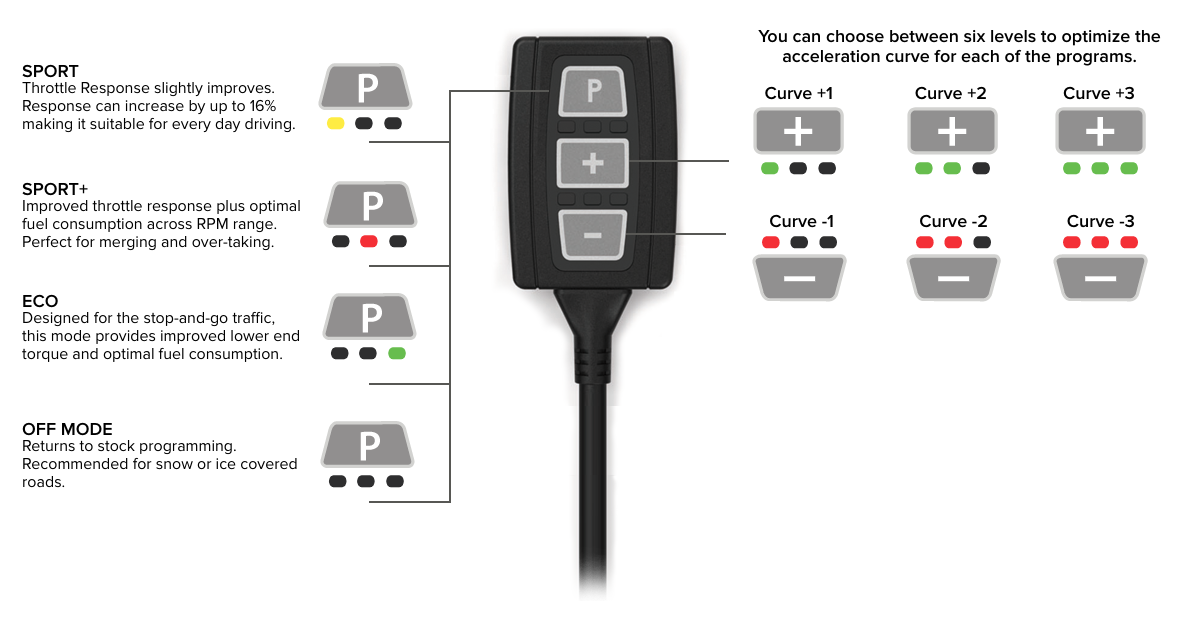 Mode Selection:
The MADNESS GOPedal comes with 4 different modes:
OFF - This mode returns you to stock programming.

ECO - This mode is designed for stop-and-go city traffic. This mode will improve lower end torque and optimize fuel consumption.
SPORT - This mode improves your throttle response by up to 16% making it suitable for everyday driving.
SPORT+ - This mode improves your throttle response and optimizes your fuel consumption across RPM range. Perfect for merging and overtaking.
Curve Feature:
The MADNESS GOPedal comes with an additional curve feature to fine tune each individual mode.

You can choose between six different levels of adjustment on each mode. The Green Curves (+) will make the current mode you are on progressively more aggressive on each positive curve. The Red Curves (-) will make the current mode you are on progressively less aggressive on each negative curve.
Features:
Manufactured in Germany exclusively for MADNESS Autoworks
1,000's of satisfied users
Proprietary software designed and tested on our own vehicles
Installs in minutes using basic tools
Makes no permanent modifications to the vehicle
Fully reversible in minutes
Significantly improves throttle response
Fully programmable by you, the driver
Control everything from the remote with a simple press of a button
Full 2 year warranty
100's of positive reviews!
Easy Installation:
The MADNESS GOPedal installs in minutes with basic tools!
Locate the accelerator pedal sensor in the foot well
Disconnect the plug from the accelerator pedal
Insert the plug of the GOPedal into the accelerator pedal sensor
Connect the original plug to the GOPedal
​Move the GOPedal to a suitable position

Close out model!
We have recently released the new MADNESS GOPedal Plus that has a number of new additional features. This model is being closed out due to a new model release. We have a small amount of these left in inventory so if you would like a great product, but would also like to save some money this is a great option!

All sales final on this item.