Chevrolet Colorado Tailgate Step - Foldable
Chevrolet Colorado Tailgate Step - Foldable
Product Information
$448.99
Drive now, Pay later with Affirm
Learn More
or with PayPal
Both options will be available upon checkout.
Introducing the OMAC Foldable Tailgate Step: Your Pickup's Ultimate Versatile Companion!
Are you tired of the struggle when getting in and out of your pickup's truck bed? Do you wish you had an extra hand for those hard-to-reach places in your truck's bed? Look no further! OMAC is thrilled to present the Foldable Tailgate Step, a game-changer for all pickup owners.
Versatile and Compatible: This tailgate step is the perfect fit for every pickup out there. Whether you're working on your truck, loading up for a weekend adventure, or simply need easy access to your cargo area, this tailgate step has got you covered. It's not just a step; it doubles as a convenient truck lid for added functionality.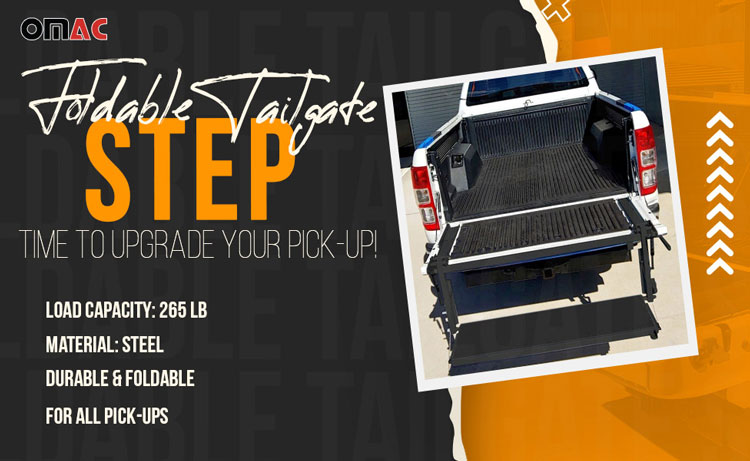 Features:
Built to Last: Crafted from robust steel, this tailgate step is engineered for durability and longevity.
Impressive Load Capacity: With a remarkable 265lb load capacity, it can handle various tasks with ease.
Sleek in Black: The stylish black finish seamlessly blends with your pickup's aesthetics.
Stay Secure: Designed with a non-slip surface, you can trust it even in wet conditions.
Fold and Go: When not in use, simply fold it away for hassle-free storage.
All-Weather Reliability: This step thrives in all weather conditions, from blazing sun to torrential rain.
Universal Fit: It's tailored to work with all pickup models.
Tailgate Frame Mounting: Easy installation on your tailgate frame ensures a secure attachment.
Enhance Your Pickup Experience: The OMAC Foldable Tailgate Step is meticulously designed to simplify your life. Easily step in and out of your truck bed without the fuss. Loading and unloading your gear or groceries becomes a breeze. Your furry friends will also appreciate the added convenience when hopping into the trunk for a fun-filled trip.
Multi-Purpose Marvel: Beyond a step, it transforms into a practical trunk lid. It allows for more upright cargo placement, enabling you to transport larger items effortlessly.
Compact and Efficient: When folded, this step is a mere 2 inches thick. When unfolded, it offers an impressive 18-inch width, ensuring a secure footing.
Upgrade your pickup with the OMAC Foldable Tailgate Step and discover a world of convenience, efficiency, and style. Say goodbye to the struggle and hello to a new level of practicality!
CA Residents:
WARNING: Cancer and Reproductive Harm - www.P65Warnings.ca.gov