Alfa Romeo Stelvio Integrated Dash Camera System - Front + Rear Dual Cameras
Alfa Romeo Stelvio Integrated Dash Camera System - Front + Rear Dual Cameras
Product Information
$269.99
Drive now, Pay later with Affirm
Learn More
or with PayPal
Both options will be available upon checkout.
Upgrade your Alfa Romeo Stelvio with this Dual Integrated Dash Camera System featuring front and rear cameras.
This system has been designed specifically for your Alfa Romeo!
This fully integrated kit comes with everything you need to install this system in your Stelvio. Once installed this system will look just like it came as a factory installed option. No dangling wires, plugs! This system will look just like it belonged on the car when it was built.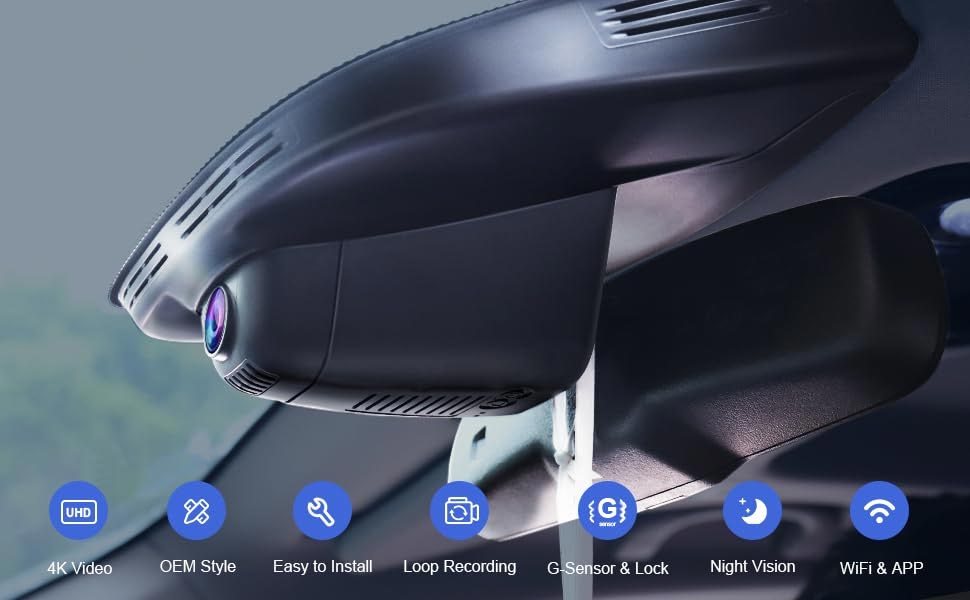 This edition includes an optional GPS/ Speed Tracker that captures speed-related information. This feature can be particularly useful in situations where you need to substantiate the speed at which you were driving.

Features:
Designed for the Alfa Romeo Stelvio
Plug and Play Installation
Built In Optional GPS Speed Tracker that records and stores your speed data
This version features upgraded hardware to allow for the front and rear cameras (included)

4K Video Quality - Front Camera
1080P Video Quality - Rear Camera
Comes with Front and Rear Cameras

F/1.6 Large Aperture Lens
CMOS Sensor to help capture high quality videos
2160P/ 30fps
Balanced Color Range
WDR Technology
Automatically adjusts light exposure
Clear Night Vision

Detailed Video and Instructions
Built in WiFi allows you to view real time
32GB MicroSD Card Included

Download important footage to a Free App if needed
Easily transfer videos to your phone or PC
Videos show time and date

Ability to share videos if needed
Loop Recording will automatically record over the oldest footage when memory card is full
Built In G-Sensor which will automatically trigger during a collision, record and lock the video so it is not accidentally erased
Parking Monitor
Resistance to High Temperatures
1 Year Manufacturer Warranty
Not a Generic Solution!
Designed specifically for your vehicle
You are replacing the stock factory plastic trim panel with a new panel that has the same look as the original, but has a built in camera. Once done the upgrade looks like it came with the vehicle.
Plug and Play Installation
This factory looking dash cam is very easy and convenient to install.
We have installed these systems on our own vehicles and also customer vehicles. Any questions give us a call and we will be glad to assist.
UHD 4K Video
Equipped with f/1.6 large aperture for exceptional video quality at 2160P/ 30fps.
This version also features a rear 1080P camera for complete coverage.

Parking Monitor
If your memory card ever becomes full, the loop recording feature will automatically overwrite the oldest footage with new content.
This model also comes with a Parking Monitoring and G-Sensor Function. The dash cam will automatically turn on and record video if it detects a sudden collision. It will then automatically save and lock the current footage to a folder to prevent this important footage from being overwritten.
Excellent Night Vision Capability
This system features Wide Dynamic Range (WDR) Technology and a CMOS Sensor.
This ensures a high clarity video even in a low light environment. The camera is able to catch fine details such as a license plate. Even road signs can be clearly seen in the daytime or night. No need to worry about too much or too little exposure.
WiFi & APP Controls
Easily access your videos on your Smartphone, Tablet or PC.
You can access your videos at home or while on the road with a free App that can be downloaded for your Android or iPhone.
Connect with built-in WiFi to view, record, download and share your recordings on social media.
Frequently Asked Questions:
Q: Do I need to turn on the dash cam every time? Does the WiFi need to be connected each time?
A: No. The dash cam will automatically turn on and off when you turn off or turn on your vehicle. You don't need to connect with WiFi manually after the first time. Once connected once the dash camera will automatically turn on when the car is started.
Q: Can I view videos after the vehicle is off?
A: Be sure to download any of the videos to your phone prior to turning off the vehicle/ camera.
Q: What if the phone can't connect with WiFi?
A: The WiFi can only be connected when the vehicle is on and the dash cam is working. Make sure both are turned on.
Specifications:
CPU: Novatek
Resolution: Front Camera: 4K Rear Camera: 1080P

View Angle: Front -170 Rear - 140

Lens Manufacturer: Sony
Functions: Night Vision/ G Sensor/ Parking Mode/ Loop Recording
Storage: Supports SD card (Class 10 or above, maximum 128G)
Voltage: 12-24V
Certification: CE
CA Residents:
WARNING: Cancer and Reproductive Harm - www.P65Warnings.ca.gov